It's the start of something new
May 18, 2020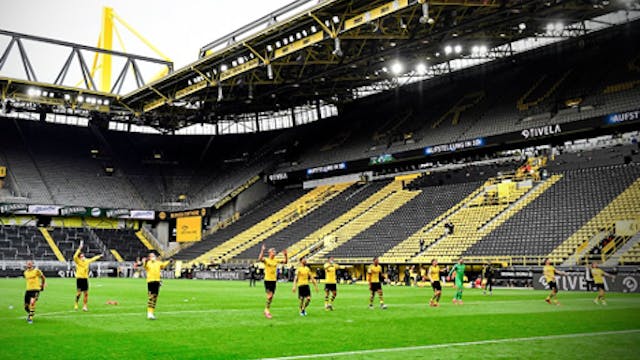 BLEACHER REPORT
The GIST: We watched live sports this weekend, and boy oh boy was it glorious. But (Debbie Downer alert!), unless you're into soccer or golf, it looks like it will be a while before we see some variety.
Tell me everything!: Hyun Kyung Park won the Korean LPGA Championship, current men's world No. 1 Rory McIlroy and former world No. 1 Dustin Johnson won $1,850,000 (all for charity!) in the TaylorMade Driving Relief exhibition skins match, and Germany's pro soccer league Bundesliga kicked off the season restart with a weekend full of matches. Oh, and there was a NASCAR race yesterday too. Vroom vroom.
All of these events were, of course, held without spectators in an effort to maintain physical distancing restrictions. But the players didn't seem to mind, and so many fans watched from home that TV viewing records were set.
Any progress from other sports?: The MLB has laid out a bunch of new rules for their players and teams for once the season starts (including no spitting and no mascots...seriously), but they're still pleading with the players union to allow them to plan for a Fourth of July weekend start. They said the league will stand to lose an average of $640k for every game that's played without fans. Ouch.
Any bad news?: Just a bit. The tennis season suspension has been extended, with the WTA and ATP announcing that all tournaments until late July have been canceled. The LPGA moved their target date from June to late July as well; however, the PGA is holding fast to their June 11th start. Weird flex but okay. And the MLS pushed their training moratorium to June 1st.
Can we end on a good note?: Sure thing. Basketball superstar LeBron James hosted his Graduate Together special this weekend to give the class of 2020 a proper send off, and he invited some friends to the party. Fellow superstar athletes Megan Rapinoe and Alex Rodriguez appeared to say a few words, and former president Barack Obama gave the commencement speech. Cue tears.