Playoff spots on the line in WNBA
September 20, 2021
The GIST: The WNBA regular season wrapped up yesterday, with three teams playing musical chairs for the sole remaining playoff berth.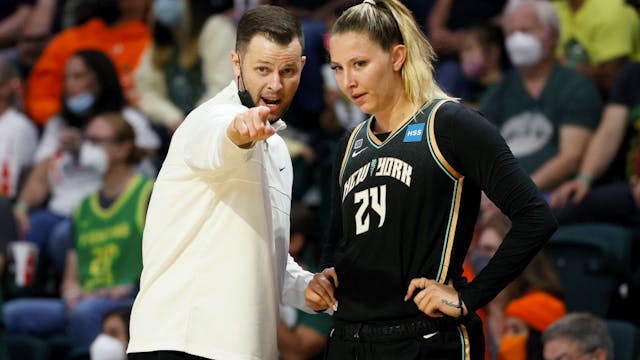 SOURCE: STEPH CHAMBERS/GETTY IMAGES
Weekend recap: Sitting in 10th with no games remaining, the NY Liberty's playoff chances were out of their hands. In order to clinch the final postseason spot, the Liberty needed both the Washington Mystics and the LA Sparks to lose on Sunday...and that's exactly what happened.
The Mystics and Sparks were both downed by playoff bound teams, sending the Liberty to their first postseason since 2017. See, anything can happen in a New York minute.
Postseason preview: The seeding for the playoffs is also now set. The Liberty will face No. 5 Phoenix Mercury while the No. 6 Chicago Sky will take on No. 7 Dallas Wings in Thursday's first-round single elimination (no pressure) games.
The top four teams, including the No. 1 Connecticut Sun — who with a casual 14-game win streak — all earned byes to later rounds. More to come in Thursday's special edition newsletter, of course.