NBA All-Star Game in Review
March 08, 2021
The GIST: We watched the NBA All-Star Game (ASG) so you could watch the Harry and Meghan interview with Oprah instead. You're welcome.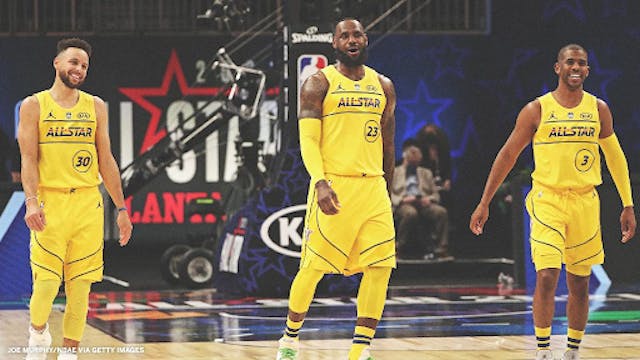 Source: Sportscenter/Twitter
Pre-game drama: Many players (and us) about an ASG in the middle of a pandemic, and what happened on Sunday shows exactly why. Just hours before the event began, All-Stars Joel Embiid and Ben Simmons were due to COVID-19 contact tracing, which may also affect their eligibility to play for their team, the Philadelphia 76ers, in the coming days.
On top of that, the NBA also sent out over 200 cease-and-desist orders to organizers around Atlanta for using NBA and ASG logos for unsanctioned parties planned over the weekend.
The festivities: Instead of a full weekend, like usual, the NBA condensed all the fun into a few hours yesterday. They started with the — won by Indiana Pacer Domantas Sabonis — then moved to the always-exciting three-point contest, where Golden State Warrior Steph Curry .
Team LeBron won the ASG itself, 170–150, over Team Durant, and Portland Trail Blazer Anfernee Simons took home the . Fun times , but let's get back to the real stuff now, shall we?