NHL playoffs: Leafs come back for huge Game 5 win
May 11, 2022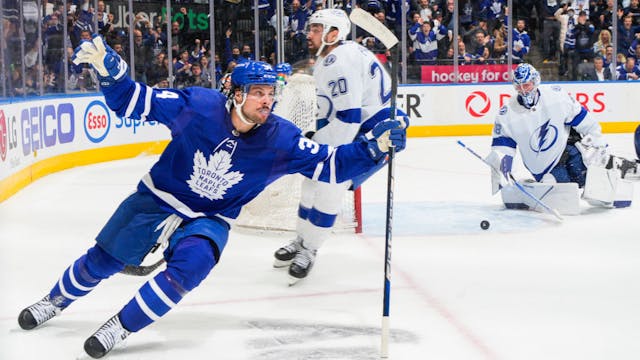 SOURCE: MARK BLINCH/NHLI VIA GETTY IMAGES
The GIST: After sweeping the Nashville Predators, the Colorado Avalanche are preparing for the second round while the remaining playoff teams focus on avoiding elimination and the Montreal Canadiens get ready for their first overall NHL Draft pick in July.
Toronto Maple Leafs: After last night's crucial 4–3 Game 5 win over the Tampa Bay Lightning, the Leafs lead the series 3-2, thanks to Auston Matthews' magical execution — exhale, Leafs fans. The blue and white will look to advance to the second round for the first time since 2004 with a Game 6 win in Tampa tomorrow at 7:30 p.m. ET.
Edmonton Oilers: On the other hand, the Oilers find themselves in a 3-2 series deficit following a tough 5–4 Game 5 loss to the LA Kings last night. Sigh. Edmonton will need a stand-out performance from its elite offense (we're looking at you, Connor McDavid!) in LA tomorrow at 10 p.m. ET to stay alive. Refined oil on the menu.
Calgary Flames: After rallying back to tie the series 2-2 with a 4–1 win over the Dallas Stars on Monday, Vezina Trophy finalist Jacob Markstrom and the Flames are headed back home to the Saddledome for Game 5. They'll look to bring the heat and reclaim the series lead tonight at 9:30 p.m. ET. Giddy up.
Elsewhere: Sidney Crosby and the Pittsburgh Penguins have a chance to eliminate the NY Rangers in the Big Apple tonight at 7 p.m. ET.
The Carolina Hurricanes could knock out the Boston Bruins before the St. Louis Blues look to do the same to the Minnesota Wild tomorrow at 7 and 9:30 p.m. ET, respectively.