How Women Athletes are Working to Get Out the Vote
November 02, 2020
Tomorrow's American election will have global implications. Here's how some women athletes are inspiring voter turnout.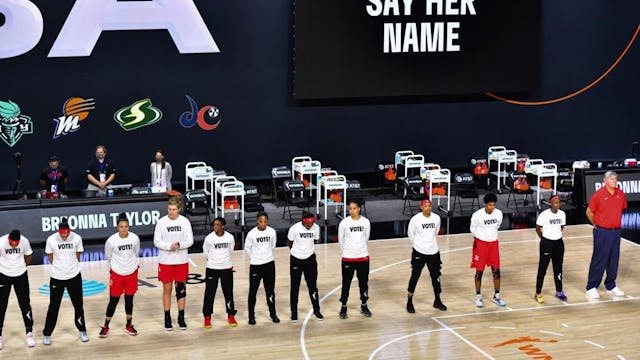 SOURCE: JULIO AGUILAR/GETTY IMAGES
The GIST: As if you needed a reminder, tomorrow is Election Day in America. What happens in the States will have worldwide ramifications, so here's an excuse to stop doomscrolling and instead take inspo from some female athletes who are leading the get-out-the-vote (GOTV) efforts ahead of the most dramatic rose ceremony American election yet.
Chiney Ogwumike (pronounced OH-GWOO-MIH-KAY): In addition to the WNBA star's partnership with More Than A Vote, a coalition of Black athletes and artists committed to energizing and supporting voters, the LA Sparks forward recently discussed her decision to serve as a poll worker on November 3rd.
The proud Texan will be working at the Toyota Center on Election Day, home of the NBA's Houston Rockets. "Don't wait on the sidelines during the most important game of our lives," she urges. You heard her!
Megan Rapinoe: The newly engaged (still squealing) soccer star has a long history of activism, and this election season has been no exception. This summer, Rapinoe released Seeing America with Megan Rapinoe, a documentary conversation with political guests, including U.S. Representative Alexandria Ocasio-Cortez.
WNBA: Yes, we already highlighted Ogwumike, but the entire league deserves a huge shoutout for their GOTV efforts. From their creative endorsement of Georgia U.S. Senate candidate Raphael Warnock to advocating for the use of their arenas as polling places, WNBA players have led the way in the fight for progressive change.
Feeling emotionally invested? Check out this crash course in the American election and buckle up for tomorrow's rollercoaster of emotions. Feeling very over this? Season six of Schitt's Creek is now on Netflix. Enjoy the Canadiana!