College: We were on a break
November 24, 2021
The GIST: It may almost be Thanksgiving break, but college sports action rolls on with a feast of playoffs and newly released polls.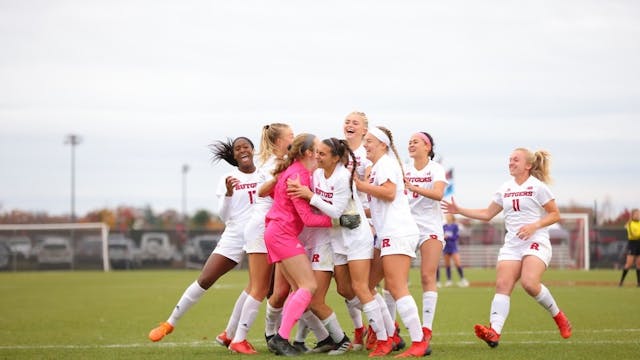 SOURCE: RUTGERS WOMEN'S SOCCER/TWITTER
⚽️Soccer: Eight teams remain in the hunt for the women's College Cup, including defending champs Santa Clara and three No. 1 seeds: Florida State, Duke and Rutgers. Quarter-final play kicks off Friday at 2 p.m. ET — the perfect way to recover from your food coma.
On the men's side, the Sweet Sixteen is set, with a double serving of quadruple header action slated for Saturday and Sunday. Here's the full bracket.
🏀Basketball: No. 1 South Carolina women's basketball defended their top ranking with a convincing 73–57 win over then-No. 2 UConn on Monday, a victory that dropped UConn down to No. 3 in yesterday's updated national poll. Undefeated Maryland seized the second spot.
And there could be some movement in the men's poll after No. 2 UCLA fell 83–63 to No.1 Gonzaga in yesterday's top-ranked showdown.
🏈Football: As expected, there was also a shakeup in yesterday's College Football Playoff (CFP) rankings. Undefeated No. 4 Cincinnati has entered the chat, becoming the first non–Power Five team to ever crack the top four of the CFP rankings. We're still not 100% sure what a Bearcat is, but we know they're celebrating.