NBA and NHL Playoff News
September 17, 2020
NBA and NHL Conference Finals are in full swing this week.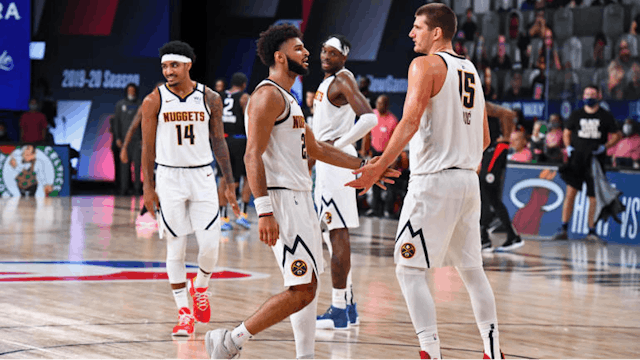 SOURCE: GARRETT ELLWOOD/NBAE VIA GETTY IMAGES
The GIST: The NBA Conference Finals have arrived! Four teams are duking it out for conference glory and a shot at the Larry O'Brien.
Who's made it this far?: Let's start with the Western Conference, because this postseason, West is best (for the fans, anyway). Despite entering the playoffs as the conference's third ranked team, the Denver Nuggets somehow found themselves taking on the underdog role, especially after they went down 3-1 in the conference semifinals against the surging No. 2 LA Clippers.
Down but not out, the Nuggets rallied — with some major help from superstar-in-the-making Canadian Jamal Murray — to force, and then win, Tuesday night's epic Game 7, becoming the first team in NBA history to win back-to-back series after being down 3-1. Maybe Kawhi Leonard should have stayed with the Toronto Raptors.
Starting tomorrow night at 9 p.m. ET, the Nuggets will face the West's best, LeBron James and the LA Lakers. Yesterday, James was named an All-NBA player for a record-breaking 16th time. So, yeah, this series should be good.
And the Eastern Conference?: It's the Miami Heat and the Boston Celtics. The Celtics had a tough road after taking the defending champ Raptors to Game 7 of the Eastern Conference semifinals, but it's been smooth sailing for the Heat, who've lost only one game this postseason.
This series started on Tuesday with an 117–114 overtime win for the Heat (because of course). Tune in tonight as Game 2 tips off at 7 p.m. ET, or, even better, head over to ESPN Radio to hear our fave basketball analyst, Doris Burke, make history as the first woman to call the Conference and NBA Finals on a national radio broadcast. A true icon.
Sweet. Any other playoff news?: And then there were three in the NHL. On Monday night, the Dallas Stars punched their ticket to the Stanley Cup Finals with an overtime win over the Vegas Golden Knights, taking the series 4-1.
So now we're just waiting for the Tampa Bay Lightning and New York Islanders to decide who wants the other spot in the Finals more. Tampa's up 3-2 in the series, which could end tonight. Puck drops at 8 p.m. ET.