Does that make me crazy?
May 04, 2020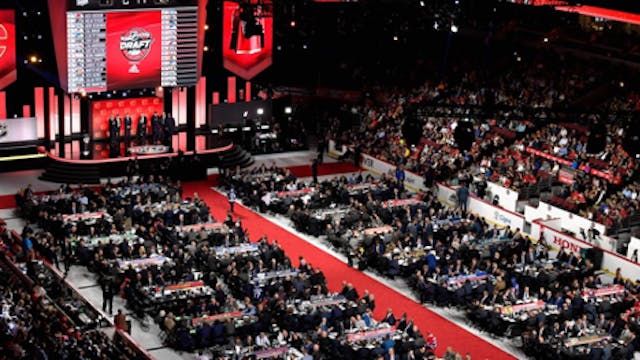 BILL SMITH/NHL VIA GETTY IMAGES
The GIST: The COVID-19 pandemic is making the hockey world do some crazy things. San Jose Shark Joe Thornton shaved off his iconic beard. Montreal Canadien Brendan Gallagher is speaking French. And now the league wants to go ahead with the 2020 Draft before the regular season is even over. Weird.
How does the draft normally work?: The NHL Draft, which allows the league's teams to select from a pool of eligible players to add to their rosters, is usually held in late June, not long after the Stanley Cup is awarded.
The selection order is based on a combination of regular and postseason records, as well as a draft lottery. So in theory, the 2019–20 season would need to end before the draft order can be set.
But the regular season isn't over…: Exactly. The NHL suspended the season on March 12th and has yet to decide if it will resume the season this summer (yes, we hate to be the bearer of bad news, but cancelation is still on the table), meaning draft order can't really be determined yet.
But in an attempt to "execute a major fan-friendly hockey event during a time where there is likely to be no (or very limited) live sports competition," the league sent out a memo on Friday to outline how the unusual draft would work, ranking teams by points percentage.
Is this a good idea?: Just like most team general managers, we're on the fence. While this could really make things wonky, we appreciate the NHL trying to give us the sports fix we so desperately need.
Any other COVID-19 news?: Unfortunately, yes. The Little League World Series, which brings together youth baseball teams from around the world to compete for ultimate glory, has been canceled for the first time in its 73-year history. Guess we'll just have to watch reruns of Big Al's dingers to get us through.