NHL and LPGA Release Restart Dates, Duke University Hires New Basketball Coach, Gymnasts Speak Out on Abuse in the Sport
July 13, 2020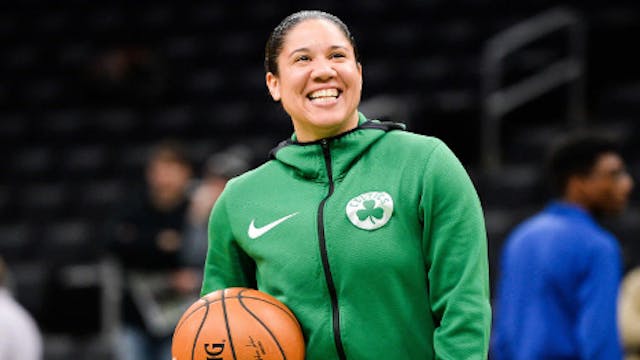 GETTY IMAGES
NHL: It's officially official: the NHL's restart will take place in Canada starting on August 1st, with the Eastern Conference playing in Toronto and the Western Conference in Edmonton. Now we just need to know which players are in and which are out.
Players have until 5 p.m. ET today to opt out of the season restart, and at least seven players have already taken that route. The Montreal Canadiens, however, are giving forward Max Domi — who has Type 1 diabetes, which increases the risks associated with COVID-19 — an extra 10 days to make his decision. Fair play, especially since three of his teammates tested positive in recent days.
Golf: The first LPGA major of the season is a go! The AIG Women's British Open is scheduled for August 20–23rd, albeit without fans, at the Royal Troon Golf Club in Scotland. Heid doon arse up!
Basketball: One of college basketball's highest-profile teams has a new coach. After Joanne McCallie announced that she would not be returning to coach Duke University's women's basketball team next season, the Blue Devils hired Kara Lawson, who's currently an assistant coach for the NBA's Boston Celtics, as her replacement.
Lawson is a 12 season WNBA vet, a WNBA champion and All-Star and an Olympic gold medalist. Lawson also played four seasons of college ball under legend Pat Summitt, so it's safe to say the Blue Devils are in great hands.
Gymnastics: Unfortunately, two very disturbing stories came out from the world of gymnastics this week. After the release of Athlete A, a Netflix documentary that highlights the USA Gymnastics (USAG) sex abuse scandal involving Larry Nassar, gymnasts in the UK have begun speaking out on the abuse they've encountered across the pond.
On Thursday, two of Britain's most decorated gymnasts, sisters Becky and Ellie Downie, released a joint statement on their sport's toxic culture, calling it "abusive" and "dangerous," and showing that what happened with USAG is not isolated, but a pervasive issue in the sport. As a result, British Gymnastics has launched an independent investigation.
And speaking of USAG, former USAG coach Terry Gray — who was suspended for two years by USAG and the US Center for SafeSport back in October — was arrested in Las Vegas on Friday and now faces up to 14 counts of lewdness with a child under age 14. Just disgusting. This has to stop.