Four Big League Championships to Take Place Over the Next Month
September 21, 2020
NHL, NBA, WNBA, and MLB champions will be decided before October is over.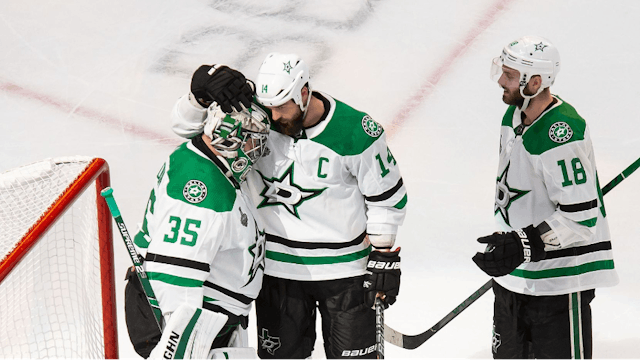 SOURCE: CODIE MCLACHLAN/DALLAS MORNING NEWS
The GIST: For the first time in forever, we'll be treated to four big league championships in a one-month period, and kicking it all off is the Stanley Cup Final.
Tell me everything!: After beating the New York Islanders in six games, the Tampa Bay Lightning joined the Dallas Stars in the final round of the strangest season of hockey ever.
The Stars took Saturday's Game 1 with a convincing 4–1 finish. Four different Stars players scored (including this beauty from Jamie Oleksiak), but 34-year-old rookie playoff starter Anton Khudobin was the real star, making 35 saves. Game 2 starts tonight at 8 p.m. ET.
What about basketball?: The NBA is getting there. After going down 2-0 in the Eastern Conference finals, the Boston Celtics bounced back in Game 3, trouncing the Miami Heat 117–106 and serving them with just their second loss of the playoffs. Game 4 isn't until Wednesday at 8:30 p.m. ET.
In the Western Conference, the LA Lakers made it 2-0 in their series against the Denver Nuggets with a 105–103 win last night. The Nuggets are used to coming back though, so don't count them out just yet. Game 3 is tomorrow night at 9 p.m. ET.
Sweet. Gimme more!: The WNBA is a round away from their finals, too...but it may take them a little longer to get there. After the Connecticut Sun absolutely demolished the Las Vegas Aces in yesterday's semifinal Game 1, the Minnesota Lynx and Seattle Storm were supposed to start their series. But due to a number of Storm players' "inconclusive" COVID-19 test results, WNBA Commissioner Cathy Engelbert decided to postpone the game until new tests can be administered. Solid leadership!
Any other playoffs?: The MLB regular season ends on Sunday (doesn't it feel like it just started?) and playoff spots are quickly filling up. Five teams in the American League and two in the National League have clinched, and more are expected today with 11 games on deck. Check out the full playoff picture here.