Bring it all back now
April 27, 2020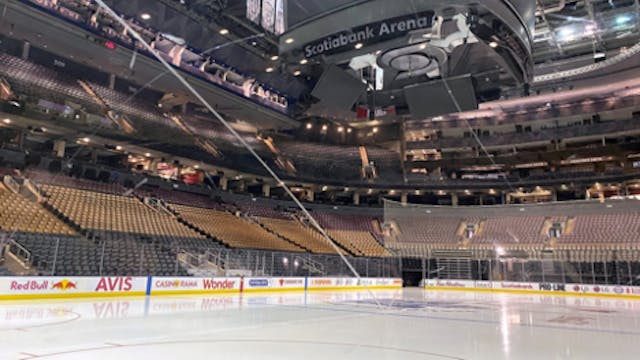 SOURCE: JOSHUA CLIPPERTON/CANADIAN PRESS
The GIST: Remember live sports? Those were the days, huh? But don't fret! While COVID-19 continues to keep us locked up for a little while longer, the major leagues are working to bring our beloved sports back.
What are they working on?: The NHL's latest idea would have each team play games in one of four cities, based on their division. The league, which along with the players' association has developed a Return to Play Committee, is still considering whether they'll play out the rest of the regular season (each team had about 12 games left) or skip ahead to a modified version of the playoffs.
These games will likely be scheduled for the summer, as rumor has it that NHL training camps will open on June 1st. That means that some players who went back to their home countries when the season was suspended (some have already begun practicing), will have to return to North America soon to complete a mandatory two-week quarantine.
Interesting. Who else is coming back?: In a serious plot twist, the NBA is going to allow some players to start practicing Friday. Players that live in cities with loosened restrictions on personal movement will be allowed to take part in voluntary, individual workouts in athletic facilities, starting May 1st. Until now, players were adhering to strict stay-at-home (i.e., workout-at-home) guidelines.
But we're not totally stoked about this. While some cities may be slowly adjusting back to "normal" life, others are still virus hotbeds. Allowing players in states like Oklahoma or Georgia, where lockdowns are being eased, to begin practicing while players in harder-hit places like New York or California are still under strict lockdown seems pretty unfair to us. As Scar would say, "Life's not fair, is it?"
Any other leagues?: The NWSL and MLS have extended their training moratoriums to May 15th, while the LPGA and PGA both have their first post-lockdown tournaments set for June 11th. And considering golf is a sport where you can actually physically distance, we wouldn't be surprised if these dates stick. No updates on potential start dates for the WNBA or MLB seasons.
What about the rest of the world?: Many European countries will begin easing lockdown restrictions next week, and since soccer is basically the lifeblood of Europe, we can look forward to some sports action from across the pond soon. In Italy, Serie A players are set to resume team training on May 18th in hopes of restarting the season in June.
Germany's Bundesliga is set to return Saturday, May 9th. And with that comes some interesting rules for players, including no...ahem, intimate relations if their significant others show coronavirus symptoms. Good luck enforcing that!