Sports Quick Hits: December 3rd 2021
December 03, 2021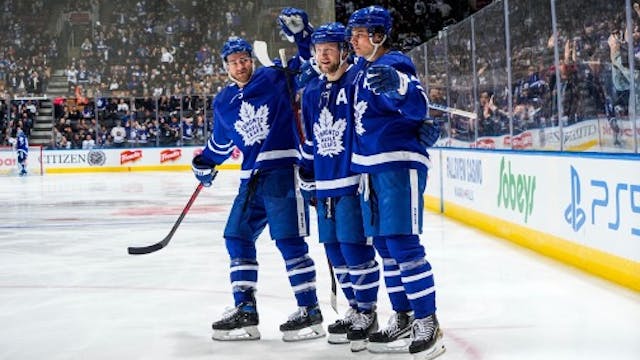 SOURCE: TORONTO MAPLE LEAFS/TWITTER
🏒NHL: After a rocky start to the season, the Toronto Maple Leafs find themselves near the top of the Eastern Conference. Extending their win streak to five games with their 8–3 win over the Colorado Avalanche on Wednesday, this team can't be stopped (we think it's the Timbiebs). Catch the Buds in action against the Minnesota Wild tomorrow at 7 p.m. ET.
🏈CFL: The Division Finals — the last round before the Grey Cup — take place this Sunday, with the East's Hamilton Tiger-Cats taking on the Toronto Argonauts at 12:30 p.m. ET, followed by the Winnipeg Blue Bombers playing the Saskatchewan Roughriders for the West's title at 4 p.m. ET.
The Argos edged out the Ticats 3-1 in their regular season matchups, and the Blue Bombers claimed victory over the Roughriders in the 2019 Divison Final. Who ya got?
🏀NBA: The Toronto Raptors claimed a much-needed 97–93 win over the reigning NBA champion Milwaukee Bucks last night. Talk about certified winner boys. Let's hope they can keep it up against the Washington Wizards on Sunday at 6 p.m. ET.
Speaking of winners, with last night's 114–103 win over the lowly Detroit Pistons, the Phoenix Suns have now won a franchise-record 18 straight games and extended their "no loss November" streak into December. Do we hear 19?