For Raptors, Canucks Today is Gonna Be The Day
September 03, 2020
The Toronto Raptors are the only Canadian team left in the NBA playoffs and the same goes for the Vancouver Canucks as they will try to force a Game 7 against the Las Vegas Golden Knights.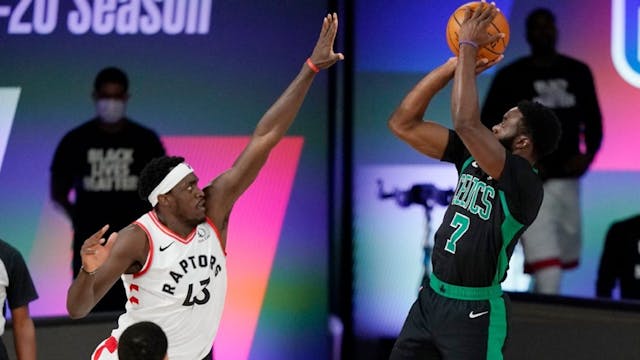 SOURCE: MARK J. TERRILL/AP
The GIST: Summer may be winding down, but the heat is on for two Canadian teams and seven Canadian tennis players. And it's all going down today.
Which teams?: The Toronto Raptors and the Vancouver Canucks are the only Canadian teams remaining in their respective leagues' playoffs. Both teams are playing for their lives...and the hopes and dreams of all Canadians. No pressure.
The Raptors are down 2-0 in the conference semifinals against the Boston Celtics. Despite a stellar regular season and a first-round sweep of the Brooklyn Nets, the Raps are now struggling: Game 1 was a blowout, and Game 2 saw a fourth-quarter collapse.
Game 3 in this best-of-seven series is at 6:30 p.m. ET tonight, and though it's not technically a must-win, coming back from three games down will be almost impossible. Sanaa VanVleet's dad, Fred, will need to improve his shooting percentage and Kyle Lowry will need to lead the charge if the Raps want to defend their championship.
And the Canucks?: Their game tonight is a legit must-win. They're down 3-2 in their best-of-seven series against the Vegas Golden Knights, and TBH, we're surprised these spunky Canucks are still kicking skating.
They've been outscored 16-10 through five games, have been shut out twice, and in Tuesday's Game 5, were outshot 43-17. Somehow, the Canucks still won that game 2–1, mostly because goalie Thatcher Demko stood on his head.

Tonight, the 'Nucks will be looking for a similar performance from Demko, a much better performance from the rest of the team, and maybe a few more pies from third-string goalie Louis Domingue. Puck drops at 9:45 p.m. ET.
What about tennis?: All seven Canadians remain in the U.S. Open. Unfortunately, two of them will be trying to take each other out. Milos Raonic (pronounced MIL-OSH RAU-NITCH) and Vasek Pospisil will face each other today in round two, and given that Milos has been on fire lately, we think he has the upper hand.