Sports Quick Hits: July 8th, 2021
July 08, 2021
Updates from Diana Matheson, the NBA Finals, and CFL rumors.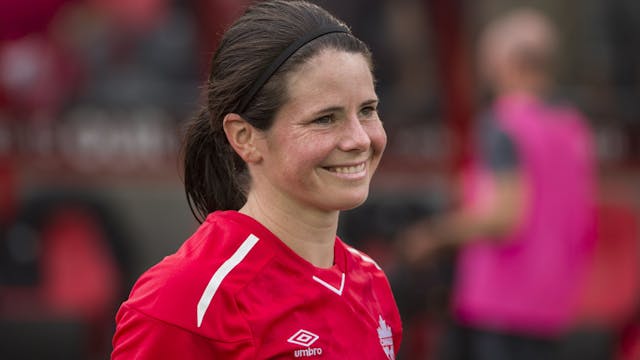 Source: Steve Kingsman/Canada Soccer
⚽️Soccer: As Team Canada gets ready to say hello to Tokyo, living legend Diana Matheson is saying goodbye. After 18 years and 206 international games, the three-time Olympian, best known for her during the London 2012 Games, yesterday. So long, Diana, and thank you.
🏀Basketball: Although Giannis Antetokounmpo (pronounced YAHN-iss ah-dedo-KOON-bo) from injury for Game 1 of the NBA Finals, the Phoenix Suns led the way.
Phoenix set an NBA Finals record with 25 consecutive made free throws and Chris Paul became the first player since Michael Jordan to notch 30 points and eight assists in a finals debut. Decent company.
🏈CFL: False alarm, folks. After scaring diehard fans with talks of a possible merger with the Dwayne Johnson–led XFL, the CFL has announced they've . It's cool, we were kind of confused by it anyway. Onwards and upwards: after a year off, the new season starts August 5th.