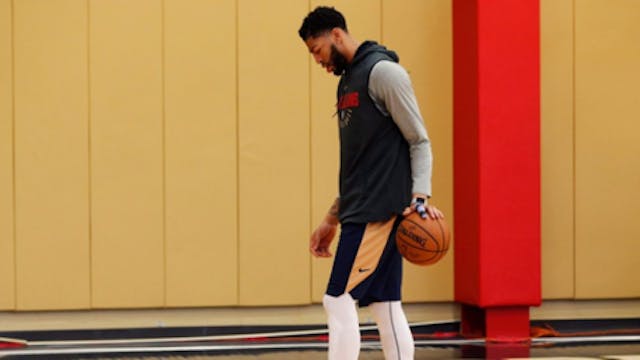 GERALD HERBERT/AP
The GIST: It's a good thing the NWSL is leading the charge, because other major leagues in North America still have a lot of work to do before they can get back on the court/ice/field/our screens.
NBA: Earlier this week, the NBA gave the all-clear for teams to reopen their practice facilities to allow for individual workouts starting tomorrow...which sounded great in theory. But when the rules of the workouts were announced yesterday, it seems very unlikely league-wide practices will begin anytime soon.
Only teams in cities with laxed restrictions can take part, and even then, teams will need to adhere to safety and distancing rules. Based on state guidelines and individual team decisions, as few as three teams plan to open their facilities tomorrow. Like we've mentioned before, this could lead to a v. unfair advantage for some teams once the season eventually restarts.
NHL: The NHL has been pretty tight-lipped lately, but this "bubble city" idea might actually work to restart the season. The plan has four North American cities acting as host cities for (maybe) the rest of the regular season and the playoffs (of which the format has yet to be announced) which would take place over the summer.
Up to 14 cities submitted a bid to host before last Friday's deadline, and each had to show that they had enough empty hotels to safely house between 600 and 1,000 people (you know, to avoid popping the bubble), and a nearby practice facility.
NFL: Although there's still a ton of time before the NFL regular season starts in September, they're not exempt from impacts of the COVID-19 pandemic. The league is currently estimating a possible loss of $3.2 billion if the season has to be played without spectators. And the international series has been canceled, which would have seen one game take place in Mexico City and four games in London. Bloody hell.
Speaking of football in Europe, at least fútbol is on its way back. The German pro league Bundesliga got the official okay from Chancellor Angela Merkel to resume the season on May 15th, and Spain's La Liga has opened training camps, so between these leagues and the NWSL, it looks like we're all going to be big soccer fans this spring.