Around and around and around we go
June 18, 2020
Sports are coming back. But, unfortunately, so are some athletes' positive COVID-19 test results.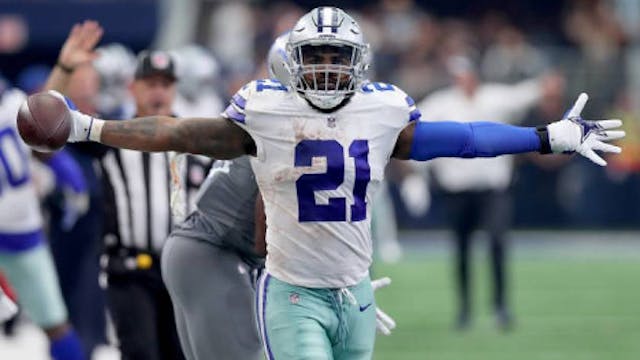 TOM PENNINGTON/GETTY IMAGES
The GIST: Sports are coming back. But, unfortunately, so are some athletes' positive COVID-19 test results.
Oh no. Who?: Most recently, several players from the Houston Texans and Dallas Cowboys have tested positive, including Cowboys star running back Ezekiel Elliott. Elliott is the third NFL player, and arguably one of the biggest stars in sports, to be publicly named.
Despite this, the NFL still seems to be planning for a normal regular season with fans (!!!) and for training camps to start in late July. Does this seem dangerously (in a literal sense) optimistic to you or is it just us?
Yikes. What about college football?: Many of the most prolific NCAA football teams — including Auburn, Mississippi State, Texas A&M and Alabama — have reported coronavirus cases among their players recently as well. Not good. Oklahoma State linebacker Amen Ogbongbemiga said he tested positive after attending a protest in Tulsa.
The NCAA is continuing to monitor the situation before making any drastic decisions, but yesterday, the Southern Heritage Classic — an annual matchup between Tennessee State and Jackson State played in Memphis in September — became the first NCAA football event to be canceled because of coronavirus. And we're thinking it won't be the last.
Wow. Can you give me some good news?: For sure! The PGA Tour tested all players, caddies and staff ahead of today's RBC Heritage tournament (the second event since the season restart), and for the second week in a row, there wasn't a single positive test. Let's polite golf clap to that.
Speaking of golf, the LPGA is returning on July 31st. The women's tour has added a new tournament called the LPGA Drive On Championship, which will kick off the season with back-to-back events in Ohio. Mark your calendars.
Amazing! Keep it rolling: Despite rumors that the WTA and ATP's US Open would be canceled, it's now officially scheduled to start on August 31st, thanks to New York governor Andrew Cuomo giving it the go ahead. Thanks, man! While not everyone is happy about the announcement, Serena Williams is stoked so we're stoked too.
And on Monday, the WNBA officially confirmed that the regular season will start in late July and will feature 22 games followed by a traditional postseason. Untraditionally, there won't be any fans, and all teams will play, practice and live at the IMG Academy in Florida. Quite the destination these days.
And...I'm afraid to ask...what's up with the MLB?: Don't be afraid — we have progress! The MLB and the players union are talking again, and they seem to have come to an agreement on a "jointly developed framework." The new plan would have the season start on July 19th with players receiving their full salaries for the amount of games played (as they wished).
The number of games is a sticking point, though. The suggested number was 60, but there seems to be some flip flopping on that. The league and union still have work to do (someone call these guys a couples' counselor), but one thing's for sure: the players are ready.