We The North
April 19, 2021
The GIST: It's a busy time for most of Canada's teams, so here's "the gist" on what some of our favorites are up to these days.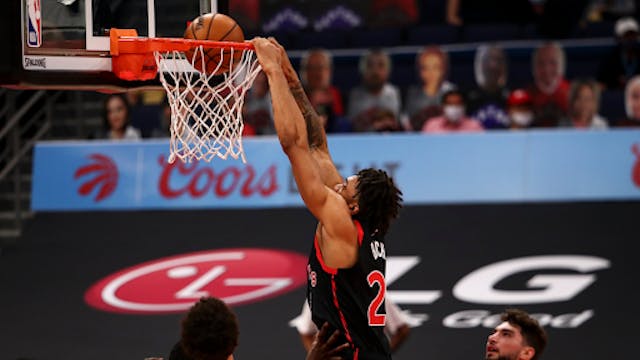 Source: Toronto Raptors/Twitter
🏀NBA: After last night's 112–106 win over the Oklahoma City Thunder, the Toronto Raptors jumped up to 10th in the Eastern Conference, making the postseason look possible. With just 14 games left to go, the injury-riddled Raps are in a spot...for now.
🏒NHL: After dealing with a COVID-19 outbreak, the Vancouver Canucks played their first game in almost four weeks last night against the Toronto Maple Leafs. And for a team that only restarted practicing less than a week ago, they more than held their own, winning 3–2 in overtime. Practice schmactice.
⚾️MLB: After losing three of their last four to the Kansas City Royals, the Toronto Blue Jays are rocking a 7-9 record. Unfortunately, that record isn't likely to improve as they head into a two-game series against the league's best Boston Red Sox tomorrow at 7:10 p.m. ET.
🎾Tennis: On a brighter note, Leylah Annie Fernandez filled big shoes in , leading Team Canada to a win over Serbia and advance to tennis' top international team tournament: the 2022 Billie Jean King (BJK) Cup (previously known as the Fed Cup) .