Athletes Unlimited is promoting volleyball growth with new ESPN broadcast deal and exhibition tour
November 16, 2022
Athletes Unlimited (AU) served up not one, but two exciting volleyball announcements yesterday.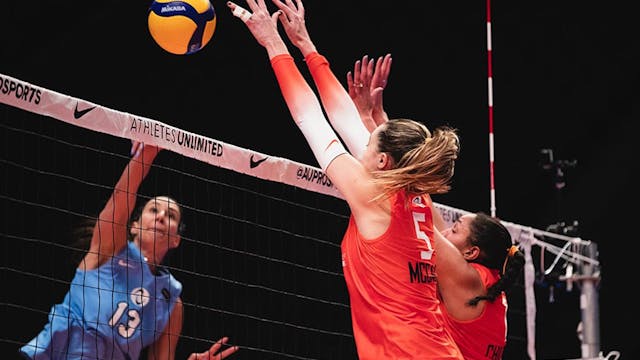 SOURCE: ATHLETES UNLIMITED/JADE HEWITT MEDIA
The GIST: Athletes Unlimited (AU) served up not one, but two exciting volleyball announcements yesterday. The multisport organization inked ESPN as a broadcast partner for the 2023 season, which follows AU's first-of-a-kind cross-country exhibition tour against the NCAA's top volleyball teams.
The media deal: ESPN+ will stream all 30 matches of next fall's AU volleyball championship, a move from its usual spring slot. The shift means pro and collegiate volleyball will air on ESPN's platforms during the same time period next year.
The Disney subsidiary and AU are already in business. ESPN acquired the rights to AU's softball and lacrosse leagues in April, signing a two-year deal that includes TV and streaming.
The tour: Players on AU's roster will travel to eight volleyball-crazed college campuses in March and April for the AU Volleyball Exhibition Tour, as well as two youth tournaments for intrasquad matchups. Athletes will also take part in community events to drive awareness for the upcoming fall season.
The tour includes stops at the University of Louisville, Ohio State University, University of Minnesota, University of Wisconsin, University of Texas, Baylor University, Howard University and Penn State University.
The context: The tour is a brand-new offering from AU, which normally hosts five-week seasons at a single site for all of its sports. Their original format is, in part, designed for the "fluid fan" — a casual who engages with sports while riding the momentum of short-and-sweet tournaments.
Zooming out: AU and ESPN are likely exploring if the NCAA women's volleyball's boom can be leveraged to drive fandom for the underdeveloped and less popular U.S. professional scene.
And AU's bet on volleyball is a serious one. The organization is using the exhibition to break its norms and attempt to court die-hard fans.