Game 2 of WCWS championship series garners whopping 1.7 million viewers
June 13, 2022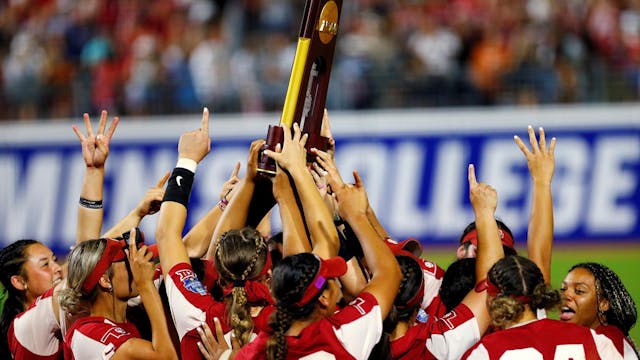 SOURCE: BRIAN BAHR/GETTY IMAGES
The GIST: The 2022 Women's College World Series (WCWS) numbers are in…and they're impressive. A whopping 1.7 million fans tuned in to Game 2 of the WCWS championship series on ESPN2, making it the most-watched game of the tournament. Comin' in clutch.
And the hype is ramping up just in time for pro softball season, with not one, but two (!!!) leagues ready to hit it out of the park this summer.
The details: Including Thursday's tournament-topping affair, the WCWS averaged 1 million viewers per game (just under last year's 1.2 million average) across ESPN's platforms. This year's two-game champ series audience is slightly below 2021's three-game final tilt, when 1.84 million saw Oklahoma beat Florida State on ESPN.
The context: Although the 2022 WCWS viewership numbers were slightly down, the tourney did exceptionally well given its primetime competition: 2.08 million were watching the Tampa Bay Lightning beat the NY Rangers in the NHL playoffs, while 20 million Americans were tuned in to the first of the January 6th insurrection hearings.
Zooming out: The WCWS' success should create momentum for Athletes Unlimited Softball (AU) and Women's Professional Fastpitch (WPF), whose seasons start this summer.
A new home(plate): Though the WCWS has called Oklahoma City home since 1997, the tournament may soon need a venue change. The state recently passed restrictive abortion laws, reminding many of the NCAA's history of leaving statesover anti-trans legislation. Stick around for future updates.