Crocs, American Eagle ink NIL deals with NCAA athletes
June 15, 2022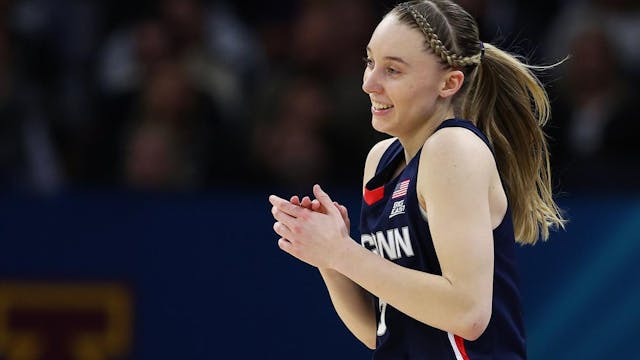 SOURCE: ELSA/GETTY IMAGES
The GIST: College athletes are quickly becoming the new go-to ambassadors for apparel brands. Shoe brand Crocs and clothing company American Eagle inked deals with some of the NCAA's best this week, deepening the intersection between fashion and sports.
The details: UConn basketball star Paige Bueckers announced a deal with Crocs on Monday. Though terms were not disclosed, the agreement comes just weeks after the company booked Oregon hooper (and pal of The GIST of It podcast!) Sedona Prince as an ambassador.
The same day, American Eagle added three athletes to its name, image and likeness (NIL) roster. Making the cut? UCLA softball star (and most dominant Brady) Maya Brady and Sam Houston State's Jada Wooten, of Netflix's Cheer fame.
The context: Crocs saw a bump in sales at the start of the pandemic and has since maintained the hype by tapping into pop culture, adding Gen Z and TikTok ambassadors along the way.
The foam clog company's strategy also includes collabs with high-fashion brands like Balenciaga. It's all about being au courant.
American Eagle's continued success, on the other hand, isn't about capturing the zeitgeist, but capitalizing on its audience's lifestyle — the brand launched #AEAthleticDept last September, an NIL influencer program for student athletes.
Zooming out: The NIL era allows fashion brands to recruit an entirely new group of ambassadors — Gen Z athletes. Fashion-forward college athletes are the perfect candidates to help brands cater to the next generation of consumers as they begin leveraging their spending power.