Governing bodies still reluctant to close pay gap in women's soccer
July 11, 2022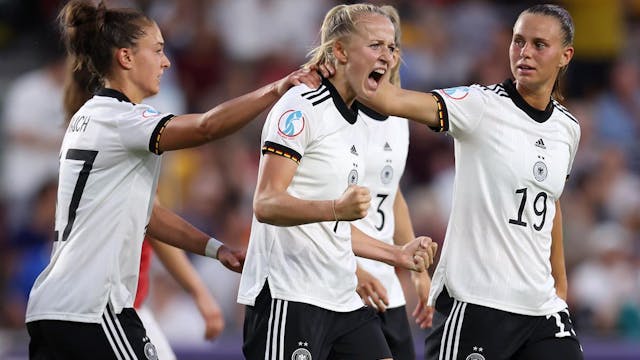 SOURCE: DFB-FRAUEN VIA INSTAGRAM
The GIST: The summer of women's international soccer has officially kicked off, with audiences and brands turning up in big ways. One group not keeping pace? Governing bodies. A series of continental championships are exposing certain soccer organizations' continuing failure to pay women and men equally.
The European Championship: Unlike its continental counterparts, the German Football Association (DFB) is dragging its feet on closing the pay gap. Though it agreed to increase Women's Euro performance bonuses for the eight-time champs to $61K per player in June, the figure is dwarfed by the $407K the DFB allocates to the men for the same feat.
The DFB is apparently open to discussing salaries after the Euro, but director Oliver Bierhoff refused to budge just a year ago, citing revenue generated by the 2017 Women's Euro versus last year's men's event to justify doubling down on inequity.
The Copa América Femenina: The South American championship began Friday with increased global coverage, but resources and pay have not kept up with the sport's growth. Host Colombia is taking the field amidst a pay dispute with the Colombian Football Federation, and players are protesting before each game. We've seen this movie before.
The team is demanding better treatment and compensation from the federation, which pays them an embarrassing $22 per day — a figure that hasn't changed in eight years.
Zooming out: Inaction from the German and Colombian federations proves neither learned the lesson from U.S. Soccer's (finally resolved) equal pay quarrel — that gender pay gaps are just as unpopular with fans as they are with brands.
LUNA Bar and Secret deodorant anteed up to cover the 2019 World Cup bonus gap, while Deloitte and Visa threatened to end their respective partnerships with U.S. Soccer if equal pay wasn't achieved. The moves only fueled public support for the team.
Supporting the USWNT is also good for brands' bottom lines, and the same could be true in Germany and Colombia. The European country was one of DAZN's top five markets for UEFA Women's Champions League coverage last season.
Colombia, meanwhile, boasts a burgeoning women's soccer community. An audience of over 37K turned up to watch Deportivo Cali and América de Cali in Liga Femenina play last month, setting a national record. Eyes on the ball.