Women's Euro sees record viewership in England's semifinal win over Sweden
July 29, 2022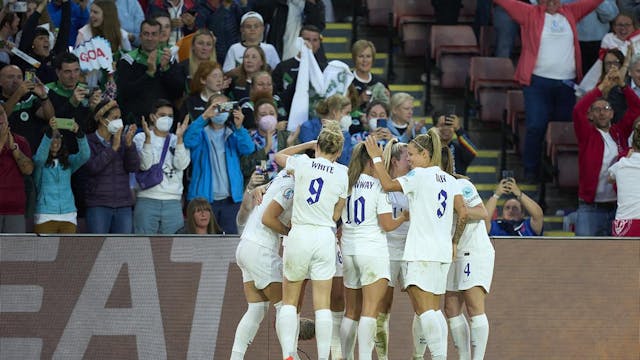 SOURCE: JAMES WHITEHEAD/ANADOLU AGENCY VIA GETTY IMAGES
The GIST: All the Women's Euro does is win. In the latest record-smashing moment of the tourney, an incredible 11.3 million watched host England cruise to a 4–0 semifinal victory over Sweden on the BBC on Tuesday. The unparalleled audience growth naturally follows the unprecedented investment in the landmark event.
The audience: Tuesday's linear TV viewership peaked at 9.3 million, with the remaining two million fans catching the game on the BBC's streaming services. The number beats the 9.1 million who tuned into England's quarter-final win last week, of which 7.6 million watched on TV.
As for IRL fans, a sellout crowd of 90K is expected when England and Germany kick off at the iconic Wembley Stadium on Sunday — an audience which will rocket the tourney's total attendance well over 500K, more than doubling (!!!) the previous 240K Euro record. And crowds are skewing male — 53% of attendees are men.
The fandom: England fans are activating in more ways than one. Sales of the $97 Marks & Spencer suit head coach Sarina Wiegman rocks on the touchline shot up 140% during the home team's run to the final. Style points on and off the pitch.
Zooming out: The hype matches UEFA's pre-tournament investments. The European governing body sold commercial inventory for this year's Women's Euro separately from the men's tournament for the first time ever, netting partners like Visa, Heineken and Lego as a result. The final balance sheet? $30 to $40 million more in UEFA's accounts annually.