USWNT: Landmark agreement gives women's team equal pay
May 20, 2022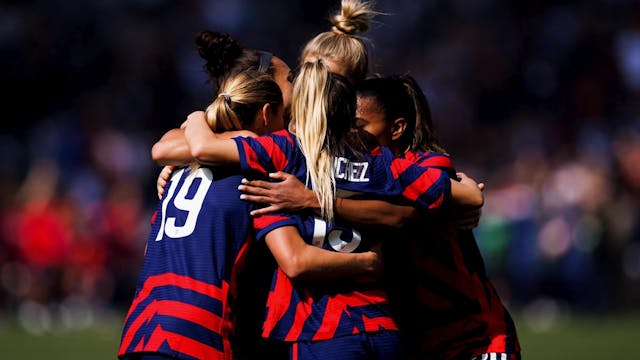 SOURCE: RIC TAPIA/ICON SPORTSWIRE VIA GETTY IMAGES
The GIST: The USWNT and USMNT agreed to historic collective bargaining agreements (CBA) on Wednesday, ensuring both teams will receive equal compensation and benefits — including revenue sharing — moving forward. LFG!
The details: In addition to enjoying equal pay and treatment, the teams will split two pots of money — World Cup bonuses and commercial revenue. Teams will pool their separate tourney checks from FIFA and split it 50/50, and will do the same for a portion (10%-15%) of the U.S. Soccer Federation's (USSF) revenue from sponsors and broadcasters.
Why split World Cup bonuses? Because FIFA's purses embody the sport's gender pay gap. The soccer body has earmarked $440 million for the 2022 men's World Cup but only $60 million for the 2023 women's edition. Qualifying for the men's tourney brings home more money than winning the women's. Just, wow.
The USSF will also pay teams $5.06 per ticket sold, which will increase to $5.75 in 2027, and athletes will receive an additional bonus for each sellout game on home soil.
The context: After reaching a settlement in February, the CBAs mark the official end of the USWNT's 2019 lawsuit. The agreements also come after several high-profile sponsors weighed in on this year's USSF presidential election. Visa and other brands backed Cindy Parlow Cone because the USSF achieved the settlement under her leadership.
Cone acknowledged as much on Wednesday, saying "...sponsorship opportunities [are] made possible by labor peace — and not only labor peace, but real collaboration among all the parties."
Zooming out: The USSF finds itself in a unique position as an organization that intentionally eliminated gender disparities despite existing in an industry full of them. The federation can now market itself as such and attract brands who openly value gender equity. Thanks to the new revenue-sharing model, it looks like a win-win-win for all.
The CBAs are ultimately a victory for the USWNT, which won trophies and public opinion before achieving equal pay. The team's fight for equality showcases their appeal as champions of change — and relatability as fellow laborers in the modern workers' rights movement.