The Women's International Pickleball Association (WIPA) launched on Wednesday
November 04, 2022
WIPA launched on Wednesday to take advantage of the hype surrounding both pickleball and women's sports.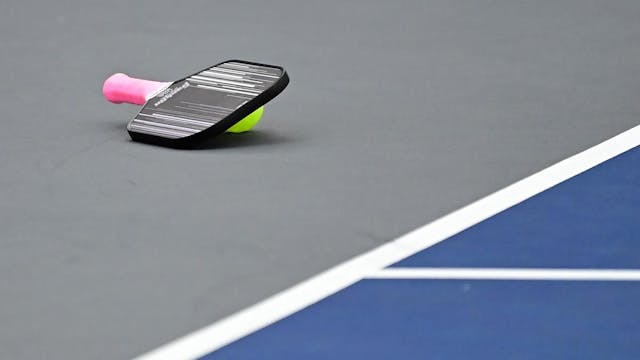 SOURCE: EMILEE CHINN/GETTY IMAGES
The GIST: Sports' buzziest game just scored a splashy new player. The Women's International Pickleball Association (WIPA) launched on Wednesday to take advantage of the hype surrounding both pickleball and women's sports.
The leadership team: Former pickleball pro Rachel Hong co-founded WIPA, alongside WNBA All-Star and ESPN analyst Chiney Ogwumike (pronounced chih-NAY oh-GWOOM-ih-kay) and Disrupt the Game president Allison Galer. Hong will serve as CEO and reigning Major League Pickleball (MLP) MVP Lee Whitwell will assist her.
The details: The WTA-style organization will host the first-ever World Tour for female competitors, and plans to offer "adequate" prize money for athletes and provide benefits during and after their pro careers.
Hong identified courting corporate partners as a top priority for the WIPA. "Sponsorship opportunities for women are also what I really want our organization to advocate for," she said in a recent interview.
The landscape: There are currently three major pickleball leagues in the U.S. — MLP, the Professional Pickleball Association Tour and the Association of Pickleball Professionals Tour. Internationally, the International Federation of Pickleball and the World Pickleball Federation are key players. All boast women's and men's competitions, including mixed tournaments.
The WIPA is breaking away from the pack by focusing specifically on the women's game and attempting to build a centralized organization for the sport's female players. Pickle.
Zooming out: A push to separate the women's and men's game comes amid a movement to unite the two from pickleball's nearest relative — tennis. The WTA and ATP will jointly open serve on the 2023 season with the United Cup in Australia.
But women's tennis initially excelled after Billie Jean King led "The Original Nine" in founding the WTA in 1973. During the women's sports boom, focusing solely on women's pickleball may allow the sport, and its athletes, to flourish.