Study: Women's sports deemed more valuable for long-term investments than men's sports
July 11, 2022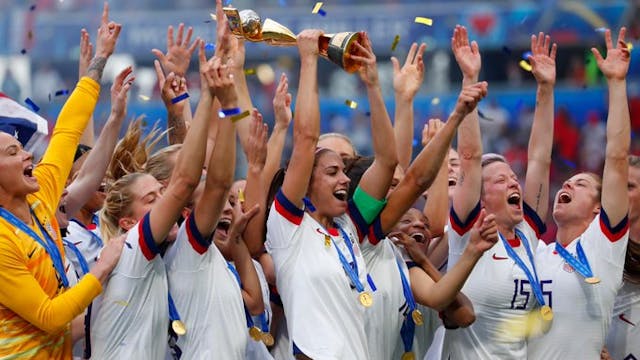 SOURCE: MICHAEL CHOW, USA TODAY SPORTS VIA TWITTER
The GIST: The Sports Consultancy (TSO) and accounting firm BDO have done their homework. On Friday, the pair released findings from a joint study on women's sports, deeming the space better for long-term investment than men's sports. But are you really surprised?
Why and how: Per the study, women's sports present a massive investment opportunity, driven by flexible event and commercial structures. For instance, the breathing room on the women's sports calendar provides unique opportunities for brands to sponsor new competitions and formats. Case in point? The WNBA Commissioner's Cup.
The report also identified more room in women's sports for new endorsements, unlike the stakeholder overcrowding in men's sports. Simply put, less competition for time, space and attention means increased marketing returns.
The data: TSO and BDO referenced two data sets illustrating growing interest in women's sports. A recent YouGov poll found 44% of global sports fans aged 18–24 prefer women's sports to men's — a sizable shift in consumer preferences from older generations, with only 16% of fans over 54 favoring women's events.
And sponsors' moves are following the leader consumer — a March Nielsen study found unbundled women's commercial investment shot up 146% in 2021 across three of the biggest rights holders in sports — FIFA, UEFA and World Rugby. Golazo.
Zooming out: The study arguably reframes the women's sports business space. The flexibility in the women's market is ripe for innovation, with near-unlimited growth potential. It's not just good business to invest — it could actively be bad business to not cut a check. Run, don't walk.