Twitter sees notable increase in tweets about WNBA
July 13, 2022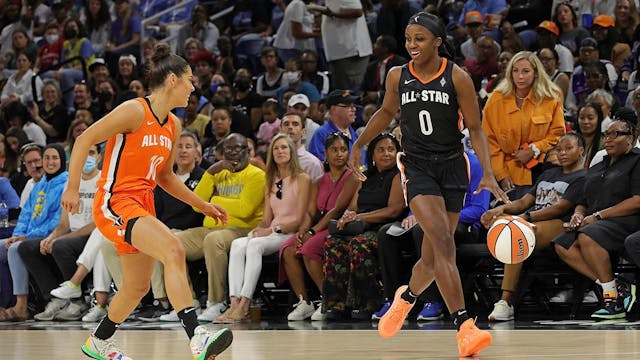 SOURCE: STACY REVERE/GETTY IMAGES
The GIST: The WNBA continues to pick up TV and Twitter dubs. The social media platform revealed yesterday that chatter about the league is increasing — a further example of the relationship between women's sports and social media and, perhaps, a growth avenue worth even more W investment. Bird's eye view.
The numbers: Twitter reported that the #WNBATwitter hashtag was used 16 times more in 2021 than 2020, ushering in buckets of tweets last season. The increased chatter means 33 million users saw W content on their timelines for the first time last year, with 676K sending their first tweets about the league in 2021.
And conversation boomed in languages other than English — the number of tweets in non-English languages rose by 35% last year. Multilingual love.
The campaign: To hype last weekend's All-Star Game, the W launched the #MoreThanIncredible Twitter campaign last month to celebrate the league shattering expectations. The W issued simultaneous calls to action in English, French, Japanese, Portuguese and Spanish, becoming the first women's sports league to do so.
The multilingual community responded. As of July 7th, a whopping 65% of tweets using #MoreThanIncredible were in languages other than English. Leading the way? Tweets in Japanese, which comprised almost 36% of the chat.
The context: Of the social media giants, Twitter is notably the smallest. It counts 450 million monthly active users, while TikTok and Instagram boast 1 billion and 1.21 billion, respectively. Twitter's value, though, is in its arguably unrivaled ability to drive global conversations and its impressively high user engagement.
Zooming out: Twitter may be a "small" social media player, but it is establishing itself as a credible platform to fuel the W's rise both at home and abroad. The inclusive approach could pay off in the U.S. alone — around 20% of Americans speak a language other than English. The universal language? Sport, of course.