Soccer tech company Playermaker inks sponsorship deal with NWSL rising star Olivia Moultrie
July 01, 2022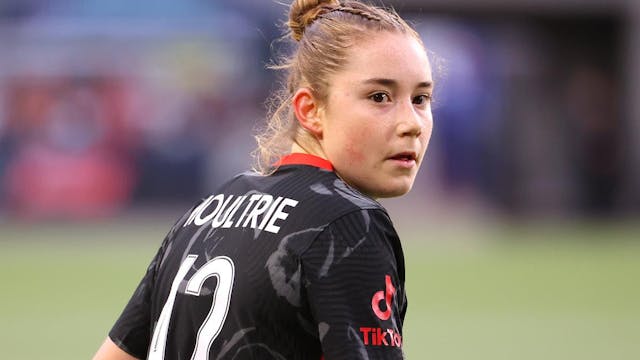 ABBIE PARR/GETTY IMAGES
The GIST: The NWSL's youngest-ever goal-scorer just booked a new sponsor. Portland Thorns FC midfielder Olivia Moultrie officially joined the roster of tech startup Playermaker on Tuesday, becoming its first female brand ambassador. The deal marks a collaboration between both a wunderkind and a company charting their rise. Game recognizing game.
The company: Britain's Playermaker operates in wearable tech, offering a sensor that straps to cleats to help players track acceleration, dribbles, top speed and kick velocity. The company recently raised $40 million and plans to expand into other sports. Its next stop? Basketball.
The details: Sixteen-year-old Moultrie will headline Playermaker's "Like A Girl" campaign, focused on closing the gender gaps in sports by increasing equitable access to performance tech (and the data that comes with it). Moultrie will star in the campaign's corresponding short film and appear in social media posts for the brand. 'Cause she run it like a girl.
Zooming out: Yes, betting on young athletes as brand ambassadors is just that — a bet. However, in the quickly-growing women's sports space, it's a risk that reaps rewards.
Playermaker's deal with Moultrie, though, is also an example of astute branding — in a quest to be sports tech's next big thing, the company booked a player shooting to be soccer's next "it girl."