Overtime raises $100 million through Series D funding round
August 10, 2022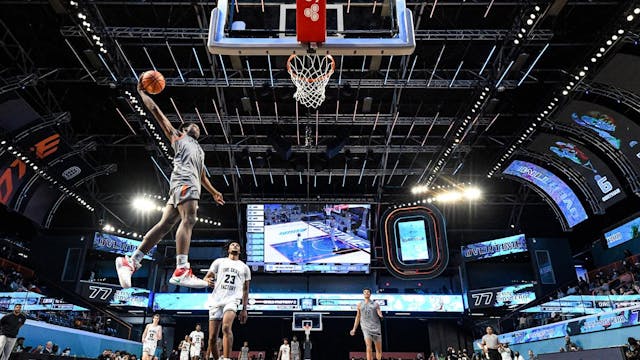 SOURCE: OVERTIME
The GIST: Overtime, a sports media brand targeting the "next generation of sports fans," announced yesterday that it raised $100 million through a Series D funding round, in which the company's value was reportedly doubled to over $500 million. The brand is now one of the largest Gen Z–focused media companies. A start-up no more.
The company: Launched in 2016 as a social media platform, Overtime made its name by posting videos of top high school athletes. After building its digital community (and booking $80 million from investors), it created two boys' high school properties — basketball league Overtime Elite (OTE) in 2021 and seven-on-seven football set-up OT7 in March.
Overtime created OTE and OT7 after hosting an all-day basketball experience in 2019. "We recognized that the next generation of fans and athletes were both being severly underserved," chief strategy and financial officer Farzeen Ghorashy told The GIST.
"Leagues provide for vast revenue expansion and acceleration, from long-term sponsorship deals, to licensing opportunities, to media rights," he added. "Our investment in OTE and OT7 have already paid dividends in this regard."
The details: The latest round was led by Liberty Media Corporation, which, along with Winslow Capital, joined previous investors Morgan Stanley's Counterpoint Global, Bezos Expeditions, Blackstone and Sapphire Sport. Overtime's new funds have been earmarked for growing OTE and OT7 and launching new leagues (and associated content) across basketball, football, soccer and gaming.
"Developing a new women's league is one of our top priorities," Ghorashy noted. "Dating back to our very first experience, our most successful and prominent events have had both men and women on the same stage."
The audience is there. Ghorashy said Overtime's TikTok dedicated to women's basketball, which boasts 1.7 million followers, is the largest women's sports account on the social media app. #RushTok, don't walk, to the opportunity.
The trend: Overtime's $500 million–plus valuation nears the price tag placed on two recently purchased media companies — Axios and The Athletic. The former agreed to sell to Cox Enterprises for $525 million on Monday, while the NY Times acquired the latter for $550 million January. The company you keep.
Both Overtime's fundraising round and The Athletic's acquisition reflect a rush of investment for media companies with niche content. Those properties often land more focused partners and generate stronger exit multiples. A win-win.
Zooming out: The nine-figure investment rewards Overtime's ability to win over Gen Z, both through digital content and by leaning into the experience economy. The brand's success is particularly impressive considering the key demo's apathy towards sports — only 23% of Gen Z are passionate sports fans, compared to 42% of millennials.