ESPN eyes NCAA championships after dropping Big Ten rights
August 12, 2022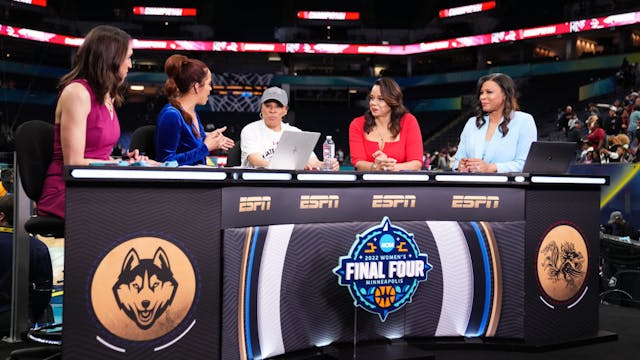 SOURCE: ETHAN MITO/NCAA PHOTOS VIA GETTY IMAGES
The GIST: ESPN is already prepping for life post–Big Ten. According to a Tuesday report, the broadcaster is eyeing NCAA championships and plans to increase its women's college sports offerings once the breakup with the football-focused conference is official. A quick rebound.
The details: The network will focus on upcoming negotiations for several college championships, including properties already on its roster, like women's March Madness. Its current deal for the women's basketball tourney (which includes 28 other NCAA 'ships) expires in 2024.
ESPN may also renew its rights to air the College Football Playoff after that deal ends in 2026, and it's considering adding Pac-12 and Big 12 games to its NCAA collection.
The numbers: Once its Big Ten deal ends in 2023, ESPN will reportedly have an extra $190 million to play with annually, a figure that can change the game at the women's sports negotiating table. Take March Madness, for instance — that competition could clock in at $81 million to $112 million per year by 2025 on its own. Save those pennies.
The breakup: The nine-figure Big Ten asking price was ultimately why ESPN opted out of renewing its 40-year partnership. The network rejected the conference's $380 million per year offer for limited second- and third-tier matchups — and less than half the number of games the current agreement covers. Sometimes love does cost a thing.
The context: And NCAA women's sports are already feeling the ESPN love. The network upped its investment in March Madness broadcasts in a deal with Genius Sports this year, and the org's women's basketball tourney, Women's College World Series and Women's Gymnastics Championships garnered millions of viewers on its platforms in 2022.
ESPN also boasts multiple successful content arms dedicated to women's sports, including the recently launched W. Studios and espnW's website and social media channels.
Zooming out: By zeroing in on women's sports, ESPN should earn more bang for its buck in the increasingly competitive — and expensive — media marketplace. The new March Madness price tag will significantly exceed the current $34 million annual agreement, but it won't top the $350 million yearly fee CBS and NBC each owe the Big Ten. Spend wisely.