WTA, Hologic partnership proves to be lucrative for both parties
August 29, 2022
The US Open may start today, but the WTA and Hologic are already victorious.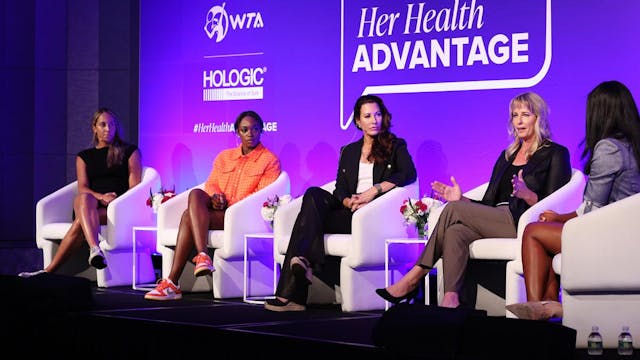 SOURCE: SARAH STIER/GETTY IMAGES FOR HOLOGIC WTA TOUR
The GIST: The US Open may start today, but the WTA and Hologic are already victorious. The dividends are paying off for both parties after their record-breaking partnership in March, which also marked the medtech company's first global partnership.
"Having the opportunity to partner with something that's more mainstream like the WTA gives more awareness to people for what Hologic is," president of diagnostic solutions Michelle Garsha told The GIST on Thursday. An ideal doubles pairing.
The background: The women's health company could afford to market itself after becoming a top U.S. COVID-19 test provider, inking a $119 million contract with the government in November.
It announced itself to consumers with a Super Bowl spot featuring Mary J. Blige weeks before striking the WTA deal.
The reasoning: Garsha emphasized that Hologic's mission to provide women with health care resources aligns perfectly with the WTA's realities. "To be an elite level athlete, you obviously have to prioritize your health," which can "inspire other women to take charge of their own health care."
The feeling from the athletes is mutual. "We have a wish list of sponsors we would like to go after and partner with," world No. 51 and Players' Council rep Sloane Stephens noted. "When Hologic came in, we knew this [was] going to be a perfect fit because our whole entire being is supporting women and women's health."
The WTA's global reach also appealed to Hologic. The company already operates internationally, but has plans to build women's health infrastructure in countries that need it.
The impact: Hologic tracks player health and provides preventative screenings, something world No. 20 and fellow Players' Council member Madison Keys said solves several problems on the tour, adding that "you can't just pop into a doctor's appointment because we're gone most of the year."
The same is true for the WTA's partnerships with wearable tech brand WHOOP and mental health platform Modern Health, which were also booked recently. "A lot of us go to therapy," Stephens said. "We need a lot of help, we need a lot of support. It takes a village."
Zooming out: An influx of sponsors proves the WTA's marketability — more than 75.8 million people engaged with the organization last year, and U.S. TV viewership numbers continue to climb.
For Garsha, the appeal to working with WTA athletes is crystal clear. "Athletes, because they obviously have to fixate so much on health, have such a platform to be an inspiration for other women." No unforced errors here.