Price for newest NWSL expansion team could reach up to $50 million
August 15, 2022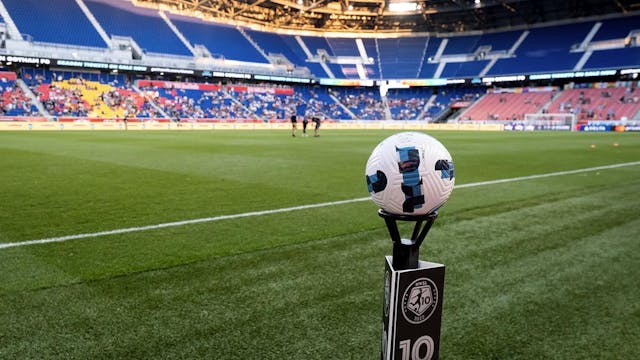 SOURCE: IRA L. BLACK - CORBIS/GETTY IMAGES
The GIST: The price tag for the NWSL's 14th club is steadily increasing. According to a recent report, the league could collect as much as $50 million for its newest expansion team, significantly more than the $5 million fee the Kansas City Current paid in 2020. Traveling at the speed of light.
The details: A long list of prospective buyers (mostly MLS ownership groups) are driving the demand, as they are reportedly impressed by the NWSL's increased professionalism, investment back into the league and the opportunity to double in-stadium inventory.
Now, the NWSL is narrowing the search criteria to three key categories — quality of the ownership group, facilities and geographic market. Ready those pitches.
The trend: Valuations for existing NWSL clubs are up, too. In April 2021, brand new club Angel City FC was worth an NWSL record $100 million. The LA team is valued at around 10x its sponsorship revenue — it's expected to rake in $10 million from partnerships this year.
A pair of NWSL originals are also posting increased valuations. Michele Kang purchased a majority stake in the Washington Spirit when it was valued at $35 million in February, and NJ/NY Gotham FC is reportedly worth $40 million.
For context, team valuation in younger leagues relies on potential ROI, unlike more established counterparts. MLS clubs value themselves at approximately 12.2x revenue, much higher than the NFL (7.6x) and MLB (6.7x).
The fee: Over in the WNBA, at least a $15 million expansion fee will apply for its next team, though commissioner Cathy Engelbert called that figure "low." Entering the WNBA or NWSL is much more affordable than MLS, however — newcomer Charlotte FC paid $325 million in 2019.
Zooming out: The NWSL continues to make a case for being one of sports' hottest properties and the timing couldn't be better. With less than a year until the FIFA Women's World Cup and the expansion race in full swing, women's soccer fever should hit 200 degrees in no time.