European soccer: The oligarchs are in trouble
March 04, 2022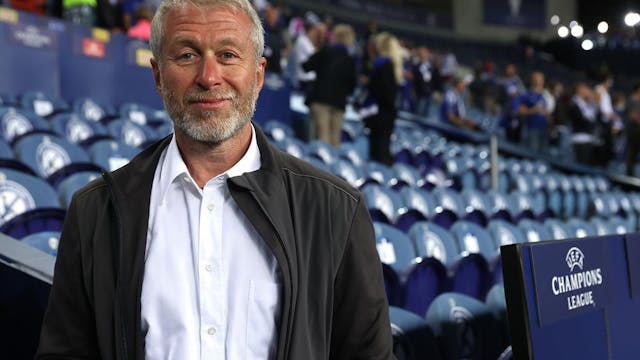 ALEXANDER HASSENSTEIN - UEFA/UEFA VIA GETTY IMAGES
The GIST: Mounting public pressure resulted in further sporting sanctions on Russia for the unprovoked, ongoing war with Ukraine. The IPC finally kicked Russian and Belarusian athletes out of the Paralympics on Thursday — cutting it dramatically close to today's opening ceremony. And on Wednesday, Russian oligarch Roman Abramovich announced he would sell English football club Chelsea.
The details: Abramovich said he will not pocket anything from the eventual sale. He will instead cancel the club's $2 billion debt to him and donate the remainder to a charity benefiting victims of the war. Bids from prospective buyers are due March 15th.
Chelsea's current value is presumed to be around $2.5 billion, but Abramovich's aim to fast-track the deal may decrease the expected sale price.
The prospective buyers: Swiss billionaire Hansjörg Wyss and LA Dodgers owner Todd Boehly are teaming up to bid for the club. Wyss, the founder and chairman of medical manufacturer Synthes, said he was one of a few individuals who received an offer on Tuesday to buy the club.
The continuing fallout: There's another oligarch with high-level soccer connections in trouble — Alisher Usmanov. He co-owns USM Holdings, a company intertwined with English club Everton. Everton's owner, Farhad Moshiri, is the chairman of USM Holdings, which, along with phone operator MegaFon — another Usmanov-owned company — served as club sponsors.
Zooming out: Soccer has a decades-long history of sportswashing. Oligarchs being ejected may be the first step in the sport cleaning up its money sources.
It's also worth asking if an incredibly unpopular war is the only thing that moves the needle. Migrant workers dying to build World Cup stadiums was evidently not enough to change soccer for the better. Sigh.