March Madness: Work in progress
March 16, 2022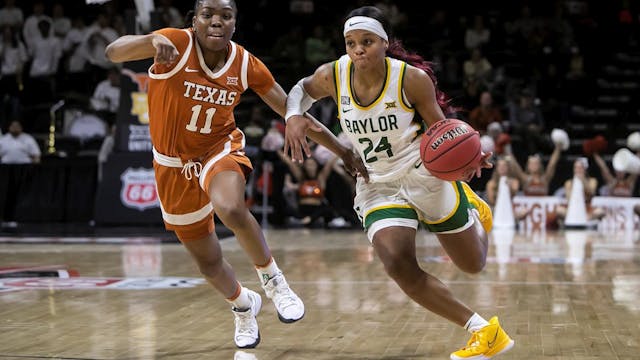 NICK TRE. SMITH/ICON SPORTSWIRE VIA GETTY IMAGES
The GIST: With more teams, sponsors and viewers than ever before, this year's NCAA women's basketball (WBB) tournament is poised to be the biggest yet. However, amidst the growing opportunities (for athletes and brands alike) remains a lingering question — has the NCAA done enough?
The criticism: In a letter to NCAA president Mark Emmerton on Tuesday, three U.S. congresswomen — Carolyn Maloney, Jackie Speier and Mikie Sherrill — accused the NCAA of making "inadequate progress" in the women's game. Mic drop.
The criticisms focused on the NCAA's problematic leadership structure, including the lack of commitment to hiring a chief business officer to oversee marketing, branding and media relationships for the championships.
The congresswomen also called out the need to change the chain-of-command. Currently, the WBB senior vice president (SVP) must report to the men's basketball SVP, rather than directly to the NCAA president. *side eye*
The receipts: An independent review commissioned by the NCAA last year found that the body significantly undervalues the women's tournament. Broadcast rights were last sold in 2011 to ESPN in a bundle with 28 other championships for $500 million, even though the tourney could command $81 million to $112 million per year alone when the current deal expires in 2024.
The growth: WBB fandom, quite simply, is climbing. Last year's championship was the most-watched since 2014, averaging four million viewers. That growth continued into this season — the Big Ten Network broke its record for WBB viewership when 268K tuned into Iowa's conference semifinal win over Nebraska.
According to SponsorPulse*, more than 39 million U.S. women (or 23.3% of the female population) engage with March Madness annually, and 7.8 million say they have a growing interest in the tournament.
The opportunity: The NCAA's support of the game pales in comparison to brands, who have pounced on name, image and likeness (NIL) opportunities. Women's basketball earns 18.5% of NIL compensation, second only to football.
*P.S. SponsorPulse is a launch partner for The GIST Sports Biz