Qatar to bid for the 2036 Summer Olympics
December 05, 2022
Qatar is hoping to (controversially) bid for the 2036 Summer Olympics in the capital city of Doha.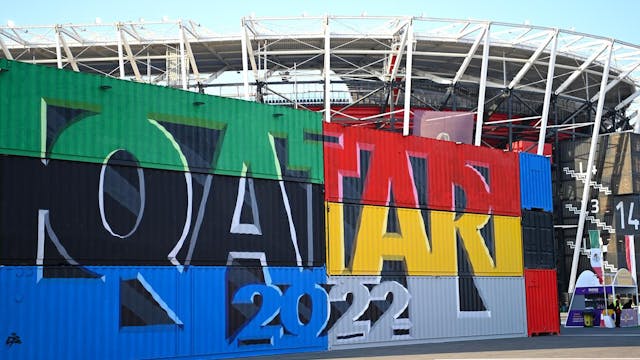 SOURCE: CLAUDIO VILLA/GETTY IMAGES
The GIST: Qatar is hoping to (controversially) host another global sporting event. According to a Friday report, the nation is using the ongoing men's FIFA World Cup as a launch pad to bid for the 2036 Summer Olympics in the capital city of Doha.
The details: As it did with the WC, Qatar would push the Olympics to the fall, since summer temperatures regularly surpass 100 degrees Fahrenheit, and would use the air-conditioned WC stadiums. It wouldn't be the first Summer Games in autumn — Tokyo 1964 started in October, while Seoul 1988 and Sydney 2000 began in September.
Qatar's Olympic committee, at the encouragement of some Olympic officials, may also pursue a joint bid with neighboring Saudi Arabia. Quite the sportswashing convention.
The concerns: Where to begin? The World Cup exposed Qatar's human rights crisis, from over 6.5K migrant worker deaths to the systemic oppression of women and the LGBTQIA+ community. And although Qatar hosted female athletes for the 2019 World Athletics Championships, the country hasn't proven itself to be hospitable to them or LGBTQIA+ athletes and fans.
From a business perspective, International Olympic Committee (IOC) members would likely raise concerns about maintaining certain sponsorships after Qatar downgraded Budweiser's visibility just two days before the WC started.
Some will also pose questions about infrastructure for events like mountain biking — Qatar's highest peak sits just 338 feet above sea level.
The precedent: Although not everyone who hosts the WC and Olympics is guilty of sportswashing, attempting to do so is an obvious play to normalize global standing. Russia, for example, hosted the 2014 Winter Games in Sochi (another unsuitable destination) and the 2018 men's FIFA World Cup.
The competition: No city has officially bid to host the 2036 Games yet, but several are teasing their intent: Ahmedabad, India; Istanbul, Turkey; a joint bid of multiple English cities; Egypt's new administrative capital; and Nusanitara, Indonesia.
Zooming out: As Qatar hosts a controversial WC, it's worth asking: Has it positioned itself as a viable business partner for the IOC and sponsors, and would associating with Qatar or Saudi Arabia be worth endangering — and alienating — athletes and spectators?
That said, it's also worth asking: Just a few months after holding the Winter Olympics in Beijing, does the IOC even care?