Gaming Society partners with WNBA on new predictive game
August 03, 2022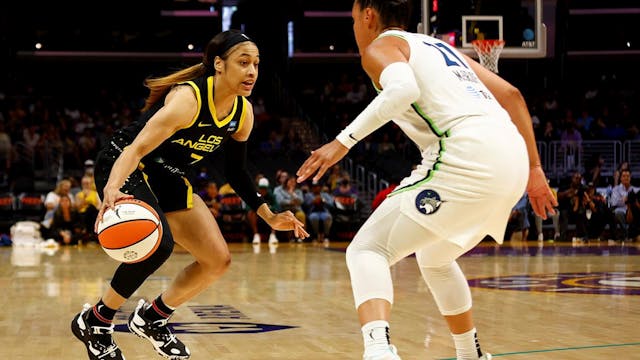 SOURCE: RONALD MARTINEZ/GETTY IMAGES
The GIST: It's time to get'cha head in the game. Content and gamification platform Gaming Society — already a partner of the WNBPA — teamed up with the WNBA yesterday. The pair launched the Bet On Women Predictor Game, a free-to-play (F2P) game where users predict game outcomes and player performances to try and win prizes.
Former W player and Gaming Society's VP of business development Marissa Coleman exclusively told The GIST that the collab is simply another way for both parties to monetize the league's continuing growth. Game on.
Game details: W players will promote the game as part of the partnership. As for the contest itself, participants can answer basketball and W pop culture questions for every remaining game this season, and Coleman said the company plans to expand the product next year.
"We have plans to do content around certain things and just tell the stories of some of these players," she said, "but it's just something we're discussing internally."
The company: Gaming Society raised $3.5 million this spring, of which some was directed toward initiatives that specifically center women, like its WNBPA partnership. The Predictor Game provides natural avenues to both tap into the W's existing fanbase and support the league's upward growth trajectory, per Coleman.
"We have relationships with fans, whether it be on social media or fans that come to a lot of games," Coleman said. "I really just thought this was a huge opportunity to give the fans another way to connect and engage with the league."
"That's kind of a gateway for them into becoming a fan of the league or a particular player," she added. "Somebody might be into playing games or betting games but not necessarily know too much about the W, but still want to play."
The trend: The timing couldn't be better for the betting-inspired game — sportsbooks are expected to rake in $3.6 billion in the U.S. this year and the take could grow to $9.5 billion by 2027. The rising revenue reflects the larger gamification industry, which was valued at $198.4 billion in 2021, and is projected to be worth $339.95 billion in less than five years.
Zooming out: The accessibility-focused F2P strategy has its benefits. The global market revenue for free mobile games has steadily increased in recent years, and is expected to generate $78.74 billion in 2022. Dub incoming?