UEFA projects six-fold increase in commercial value of women's soccer by 2033
August 17, 2022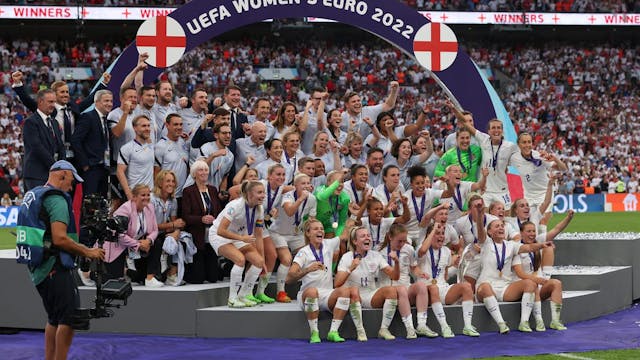 SOURCE: JONATHAN MOSCROP/GETTY IMAGES
The GIST: After last month's very successful Women's Euro, UEFA (European soccer's governing body) is making the business case for the women's game. It published a groundbreaking report on women's soccer's off-field potential yesterday, projecting a six-fold increase in commercial value by 2033. Good times never seemed so good.
The details: UEFA projected women's soccer's future value using four categories — audience engagement, commercial revenue, sporting opportunities and the sport's image. According to the report, the sport's overall commercial value could hit $698 million in the next decade, up from last year's $118 million.
Club-level sponsorship is also destined to reap the benefits. It's projected to rise six-fold to $300 million within 10 years, while matchday revenue is expected to hit $137 million by 2033, 12x last year's number.
Plus, media deals will be huge for women's soccer organizations. UEFA projected a 7x media revenue increase from $36 million to $260 million by 2033.
The audience: The European fan base could grow to 328 million by 2033, as the women's game has the unique ability to attract soccer newcomers — UEFA said almost one in three of its European fans are green to the sport.
Fans of the women's game are also incredibly engaged. They're 1.7x more likely than fans of other sports to follow along on social media and streaming services (particularly in the absence of mainstream media coverage) and 1.8x more likely to watch highlights.
There are perks for brands, too. Fifty-four percent of women's soccer fans are more likely to purchase a product or service from a sponsor, compared to just 29% of men's soccer fans.
Zooming out: UEFA's report signals its commitment to women's soccer after it turned the men's game into one of sports' most profitable ecosystems. The health of the men's game relies on successful club teams and year-round competitions, making it no surprise that UEFA identified women's club soccer as the biggest area of growth.
The model could translate to the U.S. and beyond. The USWNT may be America's hottest soccer ticket at the moment, but the team's constant success should be the hook for long-term investment in the NWSL. We love a long range goal.