FIFA 23 to add women's club soccer for the first time
July 22, 2022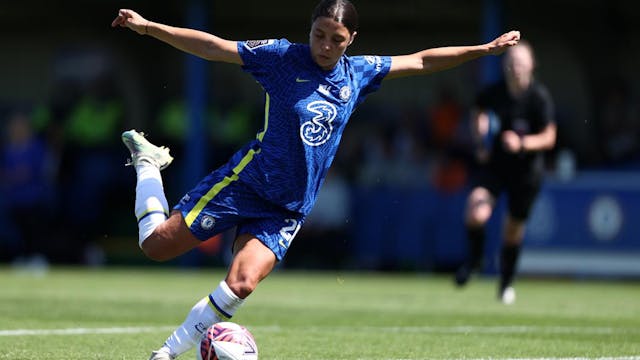 SOURCE: NAOMI BAKER - THE FA/THE FA VIA GETTY IMAGES
The GIST: EA Sports is upping its women's soccer game. The video game giant announced Wednesday that FIFA 23 will include women's club soccer for the first time when it drops September 30th. The addition makes EA the latest gaming brand to expand into women's sports — and finally tap into an overlooked market. Now that's a buff.
The details: The rollout kicks off with two of Europe's top leagues — England's Women's Super League (WSL) and France's Division 1 Féminine (D1F). And after introducing it in FIFA 22, EA's latest tech — the Hypermotion2 — employed motion-captured player data points from a pro women's match for the first time, helping to double its database along the way.
Gamers will also be able to simulate next summer's Women's World Cup when EA releases a free additional download of selected teams at a later date. The inclusion continues EA's first venture into the women's game — it introduced national teams in FIFA 16.
The trend: The WSL and D1F are just the latest in women's sports additions to popular video games. NBA Live 18 added WNBA squads at its 2017 release, and NBA 2K followed suit for its 2020 edition. Sports Interactive joined the party in 2021 by adding women's soccer to Football Manager. Took 'em long enough.
Zooming out: Video games are a tried-and-true method to increase engagement with sports fans and gamers alike, and could prove just as impactful for women's sports.