🏒
⚽
Sports Quick Hits: November 24th, 2021
November 24, 2021
Presented with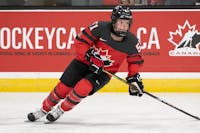 🏒Women's hockey: It was another doozy of a game for Team Canada last night, as they fell to the U.S. for the second time in just three days. Ugh. Fortunately, there's five more head-to-head games until a little thing called the Olympics.
⚽Soccer: Riding that Olympic gold medal high, CanWNT's Christine Sinclair, Stephanie Labbé and Bev Priestman have been nominated as The Best FIFA Women's Player, The Best FIFA Women's Goalkeeper and The Best FIFA Women's Coach, respectively. As Shania would say: "Let's go girls!"
🏒NHL: Love watching history happen? Tune in to watch the Edmonton Oilers take on the Arizona Coyotes tonight at 10 p.m. ET, where Connor McDavid could become the fourth-fastest player in NHL history to reach the 400 assists milestone. Hope we didn't jinx it.
🏈

CFL Playoffs: Grey-t things coming

November 24, 2021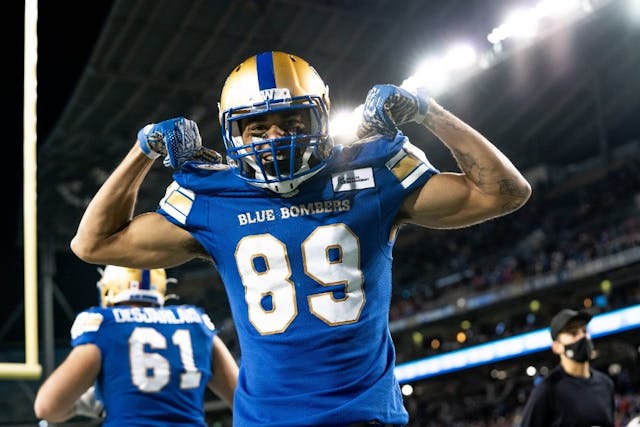 SOURCE: BLUE BOMBERS/TWITTER
How it works: Six of the league's nine teams — three from each division (East and West) — make the postseason. The top team in each division receives a bye to the division finals, while the second and third place teams face off in the division semifinals (aka the first round).
The top contender: On paper, the Winnipeg Blue Bombers are this year's favorites, as they finished top of the West with an 11-3 record and have arguably the best quarterback in the league in Zac Collaros.
The dark horse: However, don't count the tenacious Hamilton Tiger-Cats out — the finals will be played in their home city, and they have the league's Most Outstanding Player and Most Outstanding Defensive Player in linebacker Simoni Lawrence. Defense wins championships, right?
Thirsty for more? Catch the first round of playoffs this Sunday beginning at 1 p.m. ET.
⚽

NWSL: Another one...

November 24, 2021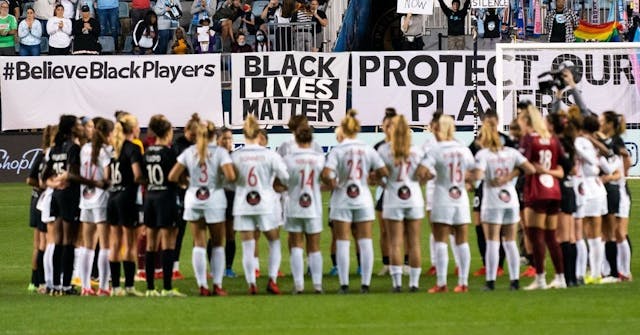 The latest: One day removed from leading the Chicago Red Stars to the NWSL championship game, head coach Rory Dames resigned late Sunday, citing a desire to focus on his family.
But the real reason broke the next day when The Washington Post's Molly Hensley-Clancy reported that former Red Stars players went to U.S. Soccer (who managed the league up until this year) as early as 2014 with complaints of emotional abuse by Dames.
USWNT star Christen Press, who was among the seven players who spoke to The Post for the story, even filed a formal complaint against Dames in 2018, but U.S. Soccer failed to address her accusations. Truly unacceptable.
The response: The NWSL Players Association released a powerful statement in the wake of the allegations, notably writing "nothing short of a complete transformation of our league will suffice."
Mana Shim, the former Portland Thorns player who came forward with sexual coercion allegations against former Thorns coach Paul Riley, said part of the healing process should include free therapy for current and former players.
And many former Red Stars players (including active NWSL players) have come forward with their own stories in response to Monday's report. Needless to say, it's going to be a busy offseason.
🏒
⚽
🏎
Sports Quick Hits: November 22nd, 2021
November 22, 2021
🏒NHL: The Sens are back, alright! After postponing their last three games due to a COVID-19 outbreak, Ottawa will be returning to the ice against the Colorado Avalanche tonight at 8:30 p.m. ET. Given their rough 4-10-1 (wins, losses, overtime losses) start to the season, hopefully this one ain't a heartache.
🏒Women's hockey: Someone call Drake because the Premier Hockey Federation's (PHF, formerly NWHL) Toronto Six have gone back-to-back. After Saturday's 5–1 victory (in front of a sold out crowd!) against the Connecticut Whale, the Six struck again on Sunday in a 3–2 win to complete the weekend sweep.
Moving along to international hockey, the third stop of the My Why Tour took place in Kingston on Sunday. While Canada was victorious in the first two games of the tour, Team USA took a 3–2 overtime win over Canada in the third.
⚽MLS: The Vancouver Whitecaps — Canada's lone MLS team in the playoffs — were eliminated this weekend with a rough 3–1 loss to Sporting Kansas City. Womp.
🏎F1: The F1 season is going to come down to the wire, with Mercedes' Lewis Hamilton notching another dominant win in Qatar yesterday. Following last week's win in Brazil, Hamilton is now just eight points behind Red Bull's Max Verstappen in the overall standings with two races to go. The drama.
🏈

NFL: Week 11 highlights

November 22, 2021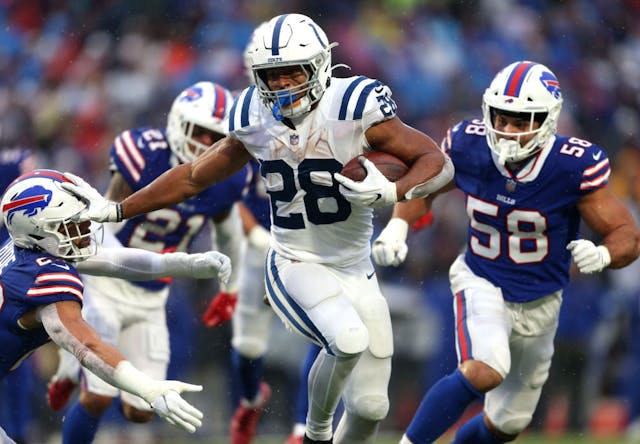 SOURCE: JOSHUA BESSEX/GETTY IMAGES
High five: Indianapolis Colts running back Jonathan Taylor scored a franchise-record five (not a typo!) touchdowns (TDs) in Indy's 41–15 upset win over a typically lockdown Buffalo Bills squad.
Backup balls out: With Baltimore Ravens QB Lamar Jackson sidelined due to a non-COVID-19 illness, backup QB Tyler Huntley made his first career start and put together the game-winning TD drive to lead the Ravens to a 16–13 win over the Chicago Bears. All smiles.
Walk it off: Green Bay Packers QB Aaron Rodgers threw four TDs, but kicker Greg Joseph and the Minnesota Vikings had the last laugh when Joseph nailed a last-second field goal to lift Minnesota to a 34–31 win. Can you say clutch?
Letdown of the week: In what was supposed to be an offensive showdown between two of the league's best QBs, Kansas City's Patrick Mahomes and Dallas Cowboys' Dak Prescott combined to throw...zero TDs as KC slugged their way to a 19–9 win.
Not done yet: A wild Week 11 continues tonight at 8:15 p.m. ET when QB Tom Brady and the struggling Tampa Bay Buccaneers host the NY Giants on Monday Night Football. Can Tompa Tom turn things around at home and settle the score with the Big Blue?